A new website. More practical, more responsible.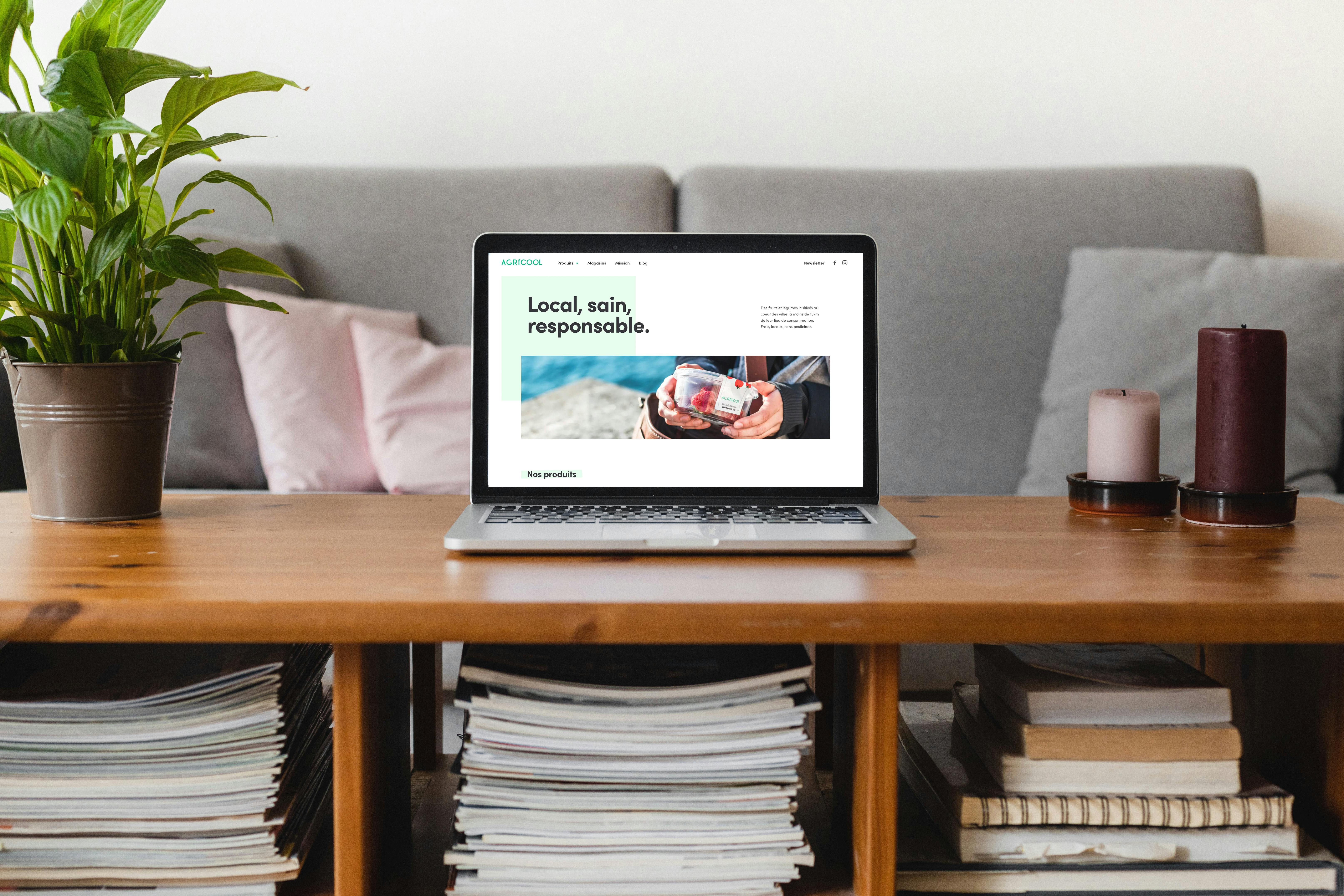 Since the beginning of the Agricool adventure, we have been working to build a new food system, healthier for all of us and for our planet. We felt it was important to embody this vision at all levels, in our projects as well as in our actions. And precisely, there is one subject that needed to be completely rethought: our website. And now, it's done. From A to Z. Here's a purer, clearer, eco-designed website. Let us explain it all to you. 
The impact of digital technology on the planet
While rethinking our website, we discovered a subject that was still little known to us at the time: web eco-design. In other words, how to build a better performing website that respects the planet. Yes, the internet is going this way too. And that's great news. Today, digital technology (datacenter, cables, telecommunications networks, etc...) alone accounts for about 3.4% of greenhouse gas emissions. That's as much as the aviation sector. Internet websites themselves have a considerable impact on the planet. More videos, more high-definition content, more dynamic content... The typical example? Netflix. The platform consumes no less than 15% of the world's bandwidth.
 "We behave with digital as we do with plastic 20 years ago, no questions asked." Inès Leonarduzzi, CEO of Digital for the planet.
Websites are increasingly energy-intensive. Too much? This is what many experts (researchers, company managers, associations, public organisations, etc.) point out. Digital technology may be virtual, but the pollution it generates is very real. Fortunately, a new dynamic is emerging. A new way of consuming digital content, that of the low-tech internet. It's about conceiving the Internet in a more reasoned way. Let's take a closer look at the current impact of digital technology on the planet.
10 figures that have marked us
Today, while the sector lacks the hindsight to provide comprehensive and relevant tools on the subject, many actors are beginning to mobilize. Collectives, organizations, media. We even note the creation of the first NGO entirely devoted to digital pollution: "Digital for the Planet". Things are moving, but there is still a long way to go. Here are a few figures that have left their mark on us:
Small anecdote 🔍
The most efficient and eco-friendly website designed today is the Musk Foundation website, the non-profit organization of Elon and Kimbal Musk. Its emissions are only 0.009 grams of CO2 per page viewed. It's very small. If it is absolutely not thought out for its visitors, it has the merit to emphasize how effective a web page can be.
The balance sheet of our former site
The analysis of the eco-design of a website is still quite complex today. There is still no consensus on a specific label, but we begin to have a fairly clear idea of all the parameters to be taken into account (page weight, loading speed, number of requests, number of tags, etc...). Many platforms now enable us to analyze the impact of one's website (EcoIndex, GTmetrix, WebPageTest, EcoMeter, TheGreenWebFoundation, UnusedCSS). 
For our part, we have chosen to rely on the Website Carbon Calculator platform indicator. Indeed, their analysis is the one that seemed most complete to us and most adapted to the objective we had set  for ourselves: to have a website that is as eco-responsible as possible. And let's be frank, the results of our old site were not great. Here is the ecological impact of one visit on our former homepage:
1 minute loading time
40 Mb of downloaded data
0.1 kWh of electricity consumed or the equivalent of 5g of CO2 emitted
These CO2 emissions are equivalent to the impact of a car driving 0.023kms
This analysis enabled us to identify the room for progress we had and to know where we could improve. More concretely, we tried to find the right balance between user experience and environmental impact. 
Towards a greener website design
Here is a (non-exhaustive) list of the 5 items we have adjusted: 
We reduced the number of images as well as the weight of the images: On the old website, there were more than 61 pictures. On the new site, we only have one page with 6 pictures. It's more minimalist. As a result, we get faster loading time and a more practical use.
We reduced the heavy content: On the old website, we featured a 1min30 and 34MB video presenting Agricool. It was also duplicated since it was already visible on our social networks. So we removed it. 
We reduced the number of styles to a minimum: For this new site, we chose to have only one font and 4 styles (versus 7 on the old site). 
A more airy design. We have chosen to have a cleaner website. Fewer texts, shorter titles, no more illustrations (compared to 33 illustrations on the old site). This makes it easier to read the content and speeds up loading, while remaining consistent with our graphic charter.
In short, we tried to do better, with less. There are certain points on which we have not yet found an ideal compromise. On the store page, in order to facilitate the search, we have integrated a dynamic map. This solution is practical, but is not ideal in terms of eco-design. We will see in the future if we can improve it. Anyways, we just finished analysing the first results, and they are already very promising. Here is the associated ecological impact of a visit on our new home page:
Less than 1 minute loading time (compared to more than 1 minute before)
4 Mb of downloaded data (compared to 40 Mb before)
0.001 kWh of electricity consumed (0.1 kWh before) or the equivalent of 1g of CO2 emitted (5g before)
These CO2 emissions are equivalent to the impact of a car travelling 0.005 km (compared to 0.023 km before).

The next steps?
We hope that this new website will better meet your expectations, while demonstrating our commitment to a more responsible digital world. And now it's time to discover about website. In the meantime, if you are interested by the subject, here is a very complete reading to learn more about digital eco-design: "Pour une sobriété numérique" by The Shift Project.